24th June, 1987. In Rosario, Argentina, the delighted Jorge Horácio Messi and Celia María Cuccittini were celebrating the birth of their baby boy. Little did they know, that little Lionel, or Leo to those closer to him, would become a global superstar and one of, if not the greatest footballer ever seen on the planet.
Fast forward to 9th December, 2012, and Lionel Messi fired in his 85th and 86th goals of the calendar year in just 66 games for Barcelona and Argentina – breaking the previous record set by the legendary German and Bayern Munich striker Gerd Muller in 1972. With 3 more games left to play this year, there's no sign of his goal scoring stopping just yet. This record means he is officially the greatest goal scorer in the game, and shows just why he is, undoubtedly, the best footballer of the modern era. A true and humble professional, the little Argentine is a great amongst greats. But is he the greatest ever?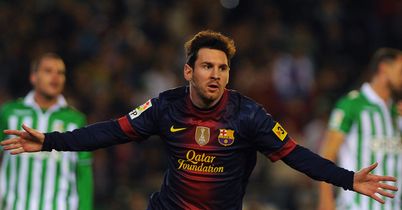 Lionel Messi celebrating his record breaking goal against Real Betis
This is a question which has and will continue to be asked time and time again. Pele, Cruyff, Maradona, Di Stefano, Puskás, Best, the list goes on. Everyone has different opinions, and it is extremely difficult (if not impossible) to compare different eras of the game. When looking at this kind of thing people consider who they played for, the amount of goals they've scored and the trophies they have won, and Messi falls short in none of these categories bar one – there is no World Cup on his CV. In the 1900's International football and specifically the World Cup was the pinnacle of the beautiful game – but the emergence of the SKY era in the '90's has meant that club football and the UEFA Champions League has become the height of the game as we know it today. Now International's are seen by many, unfortunately, as an inconvenience, and disregarded in favour of the more illustrious, money-celebrated domestic and European football. So is the lack of a international trophy really that important?
For Messi himself it will be. From what can be seen of his modest personality the man from Argentina wants everything there is to win. For the rest of us, however, it shouldn't matter. George Best, another legend of the game, never won a trophy for Northern Ireland. In fact he never even played in the finals – but he is still regarded as a great. There is no way that a player should bear the responsibility of dragging a 'minnow' country (in terms of the overall standing of competitors and world rankings) to become World Cup winners. Argentina is by no means a small country on a footballing scale of course, but the comparison was just to show you can be 'great' without having produced on every stage (not that Messi hasn't produced for La Albiceleste – 12 games and 6 assists in 9 games for them this year speak volumes).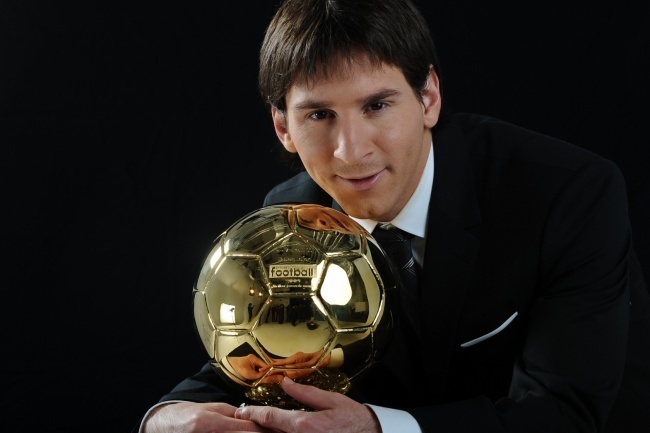 Messi with one of his 4 Ballon d'Or trophies
To answer the question in the title, in my opinion, yes. He is the greatest ever. At the tender age of 25 he has broken records galore, become Barcelona's highest goal scorer ever, won 3 Ballon d'Or's (soon to be 4?) and won countless domestic trophies for the Catalan based club – including helping Barcelona win the very first sextuplet of trophies ever in 2009. His playing style is unique and he is regarded by legends past and present as a legend. There is no doubting his talent.
Lionel Messi. The greatest.